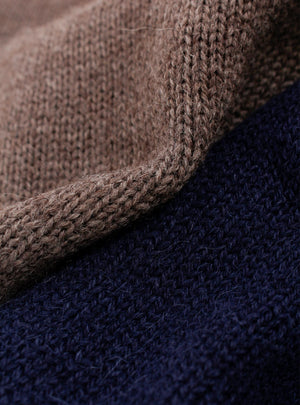 Alpaca & wool blend
February 2nd, 2022
Alpacas, who hail from the Andes in South America, are used to very high altitudes. Their wool is all at once warmer, softer, lighter and more resistant than lambswool. Alpaca wool is a carded type of wool, which means it has a fluffier finish. It is also a "dry" wool, a term used to say that it is has no lanolin, meaning it doesn't lose much of its weight during washing and processing.

Alpaca specialists are mostly located in Peru. The mill with which we collaborate has a long-term commitment to environment and respecting nature; and it offers a selection of undyed fibers. The different shades are the result of the wool's natural color: different breeds will yield specific tones, but others can also be created by the mill by mixing contrasting fibers together. Brown and cream yarns, for example, can produce greyish tones once blended together.

The alpaca wool used for the sweaters in our autumn-winter collection Edition is blended with wool fibers sourced from the Andes, which gives them a slightly rustic edge. Knitted by Maglificio T.G. Di Traversi, a knitwear specialist since 1977 based in Castel San Giovanni in Italie.