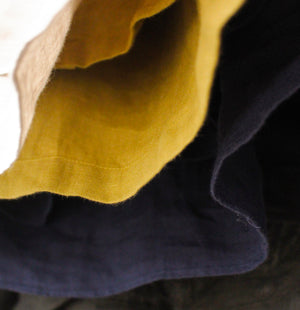 Belgian Linen
EDITION 14
September 2nd, 2020
What if the blue flower, a poetic symbol that Novalis - a German poet of the Romantic movement - referred to was the linen flower? There is definitely something poetic about its ephemeral bloom at the beginning of summer: for about ten days, waves of blue corollas follow one another and invade the fields, before disappearing.
For millennia, flax cultivation has developed in Asia and then in the Nile Valley, spreading to Europe from 1700 B.C. The "woven moonlight" has travelled through time without losing its noble character. Linen is a light, resistant and ecological fibre nowadays mainly cultivated on a large European coastal area that extends from the plains of Caen to Amsterdam and Flanders. The naturally humid and temperate oceanic climate gives the soil ideal properties for the cultivation of this fibre.
 The Flemish territory and more particularly the province of West Flanders are the cradle of this industry. Only six weavers can proudly boast the "Belgian Linen" label, which guarantees that Belgian manufacturers are using at least 85% fibres of European origin. These companies, with whom we work in partnership and with the CELC (European Confederation of Flax and Hemp), perpetuate linen weaving and produce high-quality fabrics for our clothing. Linen, which improves with each wash, has always been favoured in our editions. Moreover, they are both suitable for the summer period and appropriate to the autumn season.