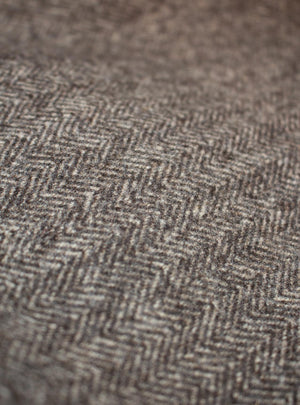 French local wools
EDITION 15
November 10th, 2020
France is historically a wool-producing territory with local know-how and specific breeds of sheep in each region. Some examples of French sheep breeds are the Bleu du Maine, the Lacaune du Massif Central and the Barégeoise des Hautes Pyrénées. 
In 2019, De Bonne Facture joined a network of regional breeders, artisanal spinners and weavers to contribute to the rebirth of the French wool industry. This takes place in a context where wools used in the textile industry are mostly imported from Australian or New Zealand farms and sheep have gradually stopped being bred for their wool in France. 
The revalorization of local French wool goes through traditional processes - like breeding and sheep shearing - to the making of our woollen pieces by our regional ateliers. The wool from our double-breasted grandad coat is woven by the Passe Trame atelier, run with passion by Eric Carlier in the Mazamet region. The coat itself is made by atelier Hervier Productions, located in Châtillon-sur-Indre, France.
The fabric is woven with a herringbone from two undyed wools coming from two types of regional sheep ; the cream-colored Bizet sheep and the brown fleece of the Velay sheep. This diversity of French sheep breeds makes it possible to obtain fabrics with natural and unique colors by mixing wools of different shades. Like a raw material, these undyed wools are slightly different at each shearing, which gives them a unique, completely natural character.
This approach is part of our commitment to offer eco-responsible, ethical, short-circuit textiles, renovating them with contemporary design.