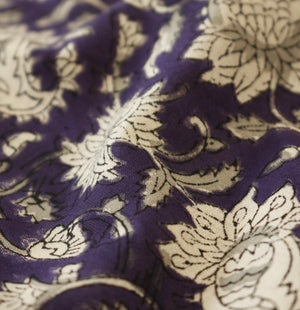 Handmade block print canvas
EDITION 20
June 16th, 2023
We are proud to introduce this unique cotton fabric, handprinted using an ancient Indian woodblock printing technique.
This technique is believed to have originated in China during antiquity. It then spread across many parts of Eastern Asia, including India. Indian artisans are said to have turned it into a culturally distinct art form by creating their own types of dyes and patterns.
Block printing is made by using hand-carved wood blocks. In order to make the blocks, the first step is a drawing on paper. It is then attached to the block which is then carved following its lines. The blocks are then stamped in dye and pressed on the fabric, revealing its patterns.
In this fabric we chose, three wooden blocks are successively applied by hand to the material, with an ecru base, unveiling its distinctive "Fleurs du Chennai" pattern, derived from a traditional Indian print, along with shades of blue and green. This printing process is carried out using natural dyes.
To pay tribute to the artisanal origins of these patterns, we have collaborated with a family-owned atelier in India that has been practicing the ancestral craft of wodblock printing for several generations.
The "Fleurs du Chennai" fabric is available in our Edition 20 in two pieces: a camp collar shirt and easy shorts, that can be paired together to create a summer set.