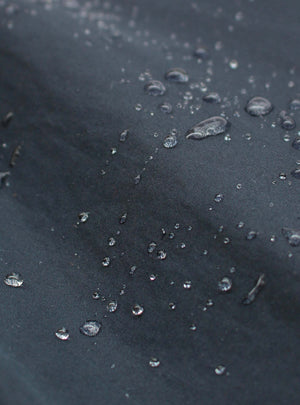 Organic cotton Ventile®
EDITION 13
December 30th, 2019
Ventile is a high performance textile that is perfectly suited to
outerwear
. Created in the United Kingdom for the British army during the Second World War, it is a tightly-weaved cotton made from fibers that have been specially selected for their length, called "extra long staple" fibers. The resulting material is naturally water-repellent: once wet, the fibers expand to create a watertight barrier against the elements. Its fabrication is the product of rigorous craftsmanship: Ventile is exclusively manufactured and certified by Stotz, a historical factory located in Switzerland.
In order to make them water-repellent, outerwear garments are usually coated with chemical substances harmful for both the environment and the wearer's health, named perfluorocarbons, or PFC. However, they can also be made water-repellent by using paraffin wax, an effective, traditional and above all non-toxic technique: a mix of paraffin and melted beeswax is layered over the cotton fibers and forms a watertight coating - creating an effective barrier against humidity - while still remaining breathable.
In keeping with our commitment to using natural fabrics, our water-repellent garments are made without synthetic materials and with this paraffin wax coating. We have chosen pure organic cotton to create the two pieces in cotton Ventile presented in our autumn-winter Edition: a parka and a
long mac
, both made by the atelier "Hervier Productions" in Châtillon-sur-Indre, which specializes in outerwear and workwear. These two functional and durable items also feature well-crafted details, such as a pure cotton lining or horn buttons made by Brochot, a manufacturer based in the Jura mountains.