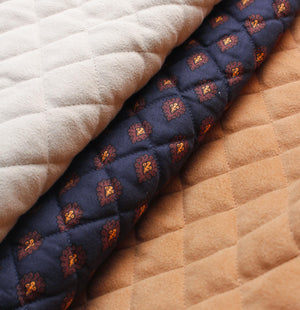 Quilting
November 16th, 2021
The quilted jacket is an essential in the men's wardrobe and a French reference in classic menswear. It is made by sewing two pieces of fabric together and integrating an extra layer between them for a padded effect. A series of shapes is then obtained in quilting on the outer side of the garment. This sewing technique traps air in the fabric and is known for its insulating qualities against cold, wind and rain. The properties of the pieces made with this know-how can then be related to technical clothing.
Our revisited version of the traditional quilted jacket features a soft and comfortable quilting in a natural fabric, using a pure cotton fabric and a recycled polyester padding. This one is inspired by the finest tradition of South of France quilting, the "boutis". The know-how of the "boutis" or "Marseilles embroidery" has been classified in the French inventory of immaterial heritage in 2019. This kind of embroidery draws its origin in the techniques of stitching and quilting. It is realized by stitching small points of thread on the edges of the designs drawn beforehand. The first "boutis" creations were made in Marseille in the XIIth century. This work required cotton batiste or muslin stretched with another more rigid fabric, often an "Indiennes"ones - paisley prints imported from India. 
The quilted work jacket from our Edition 17 is made by the Hervier Productions atelier, located in Châtillon-sur-Indre, France. It comes in a cotton moleskin version in taupe and stone colors and in another version with a Provencal print designed by Les Olivades, a historic family-owned printing company in the Avignon area.